Last night I decided to photograph some stuffed cats I'd won from a UFO catcher machine. The perfect excuse to whip out the flashes and mix-it-up with some Sword Art Online Niitengo mini-figs! Follow the jump for some behind the scenes on this shot.
Photo Notes
Figure(s): Kirito & Asuna Niitengos, from different Dengeki magazines. 2 random stuffed cats.
Camera: Nikon D300 + 85mm 1.4D – I actually took most of the shots with the Tamron 28-75 2.8, but they were missing a little something. The cream-machine saves the day as usual :3
Lighting: SB-600 w/ red gel, and SB-700
Background: Crumpled up packing tape. A plastic shopping bag. A circular filter case. A torn up envelope. A sheet of A4 sized paper . Bubble wrap used as a diffuser. There's a mouse pad too, how purrfectly ironic.
Post-Processing: Lightroom (for initial adjustments) & Photoshop (for the effects)
At first, I was just going to snap a quickie and grab some dinner, so I set up the two strobes on my desk something like this: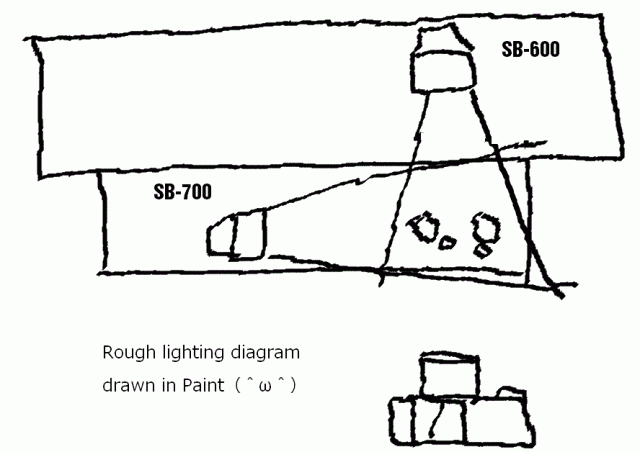 The result?  Well, my desk is kinda boring. The photo is not well lit at all. Asuna is caught in the shadow of the black cat on the left, for one thing. As a solution, I "created" some props out of things lying around my room, and repositioned the figures so they would catch better light.
An improvement, but not by much. Thinking back to a color gels tutorial I saw on Strobist, I scrounged around and found my pack of hardly used, overpriced, Nikon SJ-1 (actually just sitting on my desk, collecting dust =_=).
Since the main subjects were from the "death game" anime, Sword Art Online, I decided to go for a dungeon-like ambience. I chose a red gel, slapped it on the rear light to color up the scene a bit, while keeping the side light pure and unfiltered, and… bam!
What happened here? Well, basically the rear light overpowered the scene. It must have been contributing more to the exposure than expected. I used a piece of paper to focus the SB-600's beam, and threw some bubble-wrap in front to soften it a bit more. Also, it was necessary to re-balance  the flash output levels. Luckily Nikon makes this really easy to do from camera. At this point, I also switched to the trusty 85mm 1.4D for that extra bit of creaminess.
And there you have it. Nice and gloomy, but Asuna and Kiirito are relatively un-tinted, thanks to the SB-700 as side light. The exposure was a bit low, but I did the rest in post. It's amazing what a little Photoshop can do. The initial adjustments were done in Lightroom, and the lighting effects and other graphical elements were all done in Photoshop using some random brushes I found on the 'net.