1/8 Hatsune Miku Cheerful Ver. is finally here! A 10,000 yen figure!? It's review time!
So what sort of figure demands that kind of premium price? Here's a bit of background. Hatsune Miku Cheerful Ver. was first announced back in March, the last figure in GSC's Cheerful Japan! series. The goal of that project was to raise money to help out victims of the devastating Touhoku earthquake and tsunami last year. I'm not sure about their production costs, but perhaps they could've released Miku at 8,000 yen and still have managed to donate 2,000 yen per sale to charity. Nonetheless, as of the end of May 2012, Cheerful Japan! had raised 239,404,356 yen (about $3 million USD). That's not a number to scoff at!
The basis for the figure's design was this image by illustrator bun150:
With such a vibrant, dynamic image, I'm happy to say that the figure turned out well too. The pose, energy and sense of movement have all been translated into a sculpture that encapsulates the spirit of the original. This is in no small part due to the talents of kiking, a talented young sculptor from GSC's Shanghai office.
Out of the box!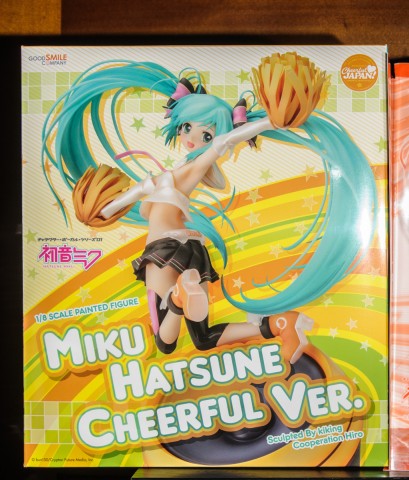 The box. It's visually appealing, but a rather simple affair. It doesn't have the typical plastic window that most 1/8s do, instead opting for a normal cardboard enclosure. Given that this figure was pre-order only, it must've been a (logical) cost saving measure. Inside was the figure itself, safely stored in a layer of plastic packaging, an instruction booklet, and a nice illustration mini-poster.
A note here. I had a really hard time opening the plastic packaging, and eventually had to resort to using a pair of pliers. The metal wires holding the thing together seemed nearly impossible to remove by hand. On the plus side, there's no way it would've come apart in transit. Safety first, I suppose :3
In the illustration, Miku is depicted as leaping forth from the magical device through which her songs transcend the digital realm. That's right, the base is a giant speaker! In the past, people were wary of figures posed to stand on one leg, due to the possibility of the dreaded "lean" that is the nightmare of figure collectors everywhere.
Thankfully, manufacturing technology has improved, and we've come a long way since those days. In this case, the entirety of Miku's weight is supported on a single metal hook. The instruction manual advises that you be sure to insert it in all the way! (Well, at least 10mm. >.>)  Nonetheless, it feels sturdy enough to last for a long time.
Balance-wise, the figure is fairly stable, although the center of gravity is a bit off center due to the concentration of weight on one side. The underside of the base has a hollow part though, so it'd be possible to install a counterweight if necessary.
Let's set her up!
Details, details, details!
Point #1: Belt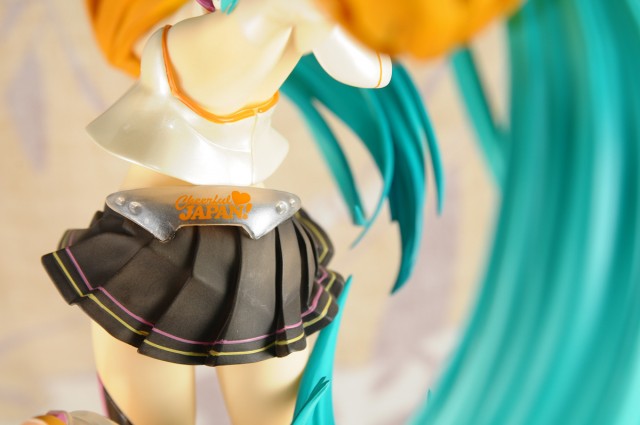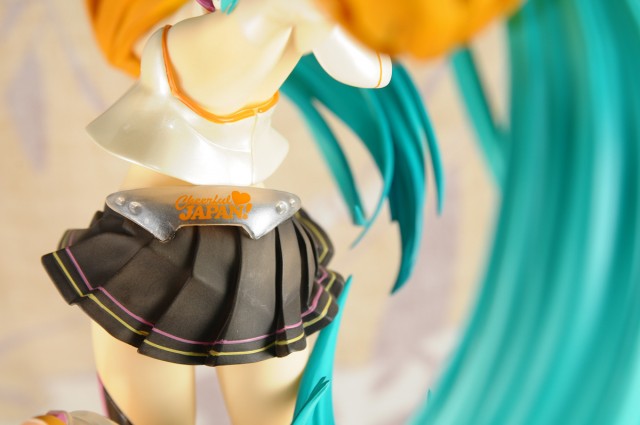 A Cheerful Japan Belt(?)-like thing made of translucent plastic! Nice ruffles on the skirt too.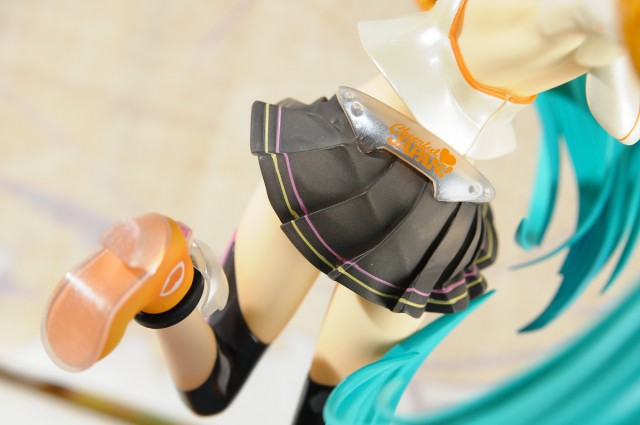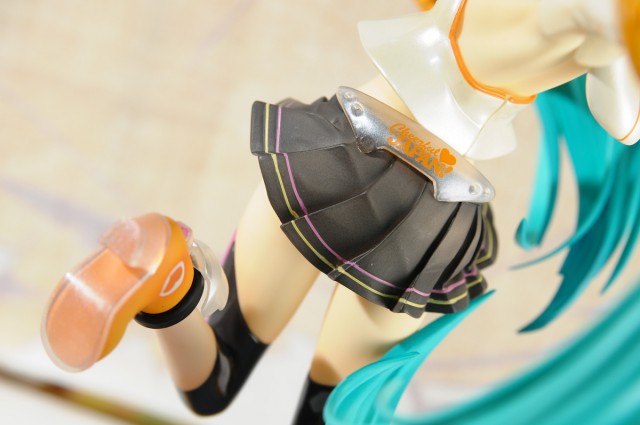 Point #1.5: Miku ready to give a playful kick :3
Point #2: Boots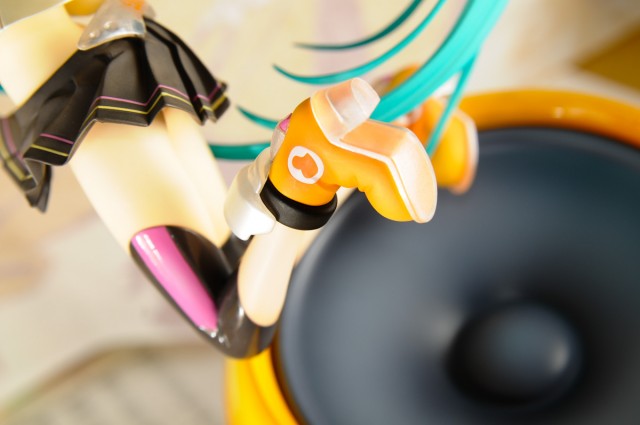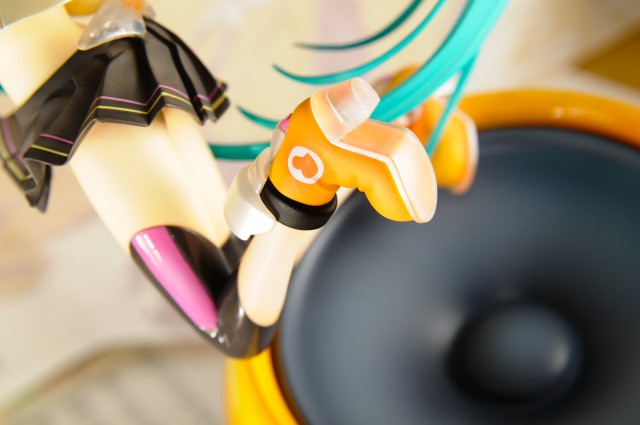 Cute boots with a heart design! Note the translucent plastic used for the soles and backs.
Point #3: Knee-guards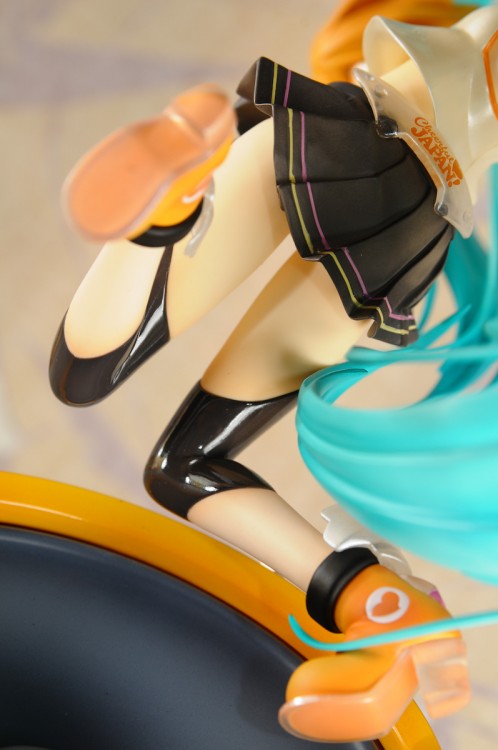 Miku's got some knee-guards on, instead of thigh-highs. They fit pretty well with the sporty motif.
Point #4: Pompoms and Hair Ribbons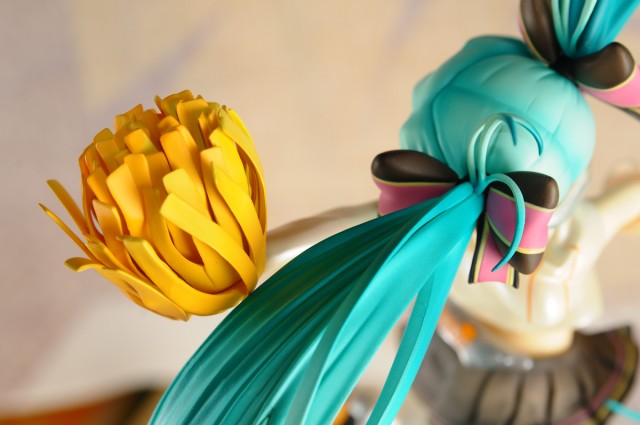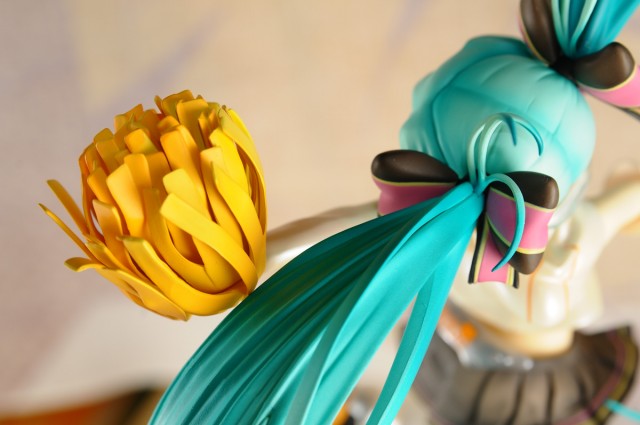 The pompoms each have dozens of individually sculpted strands. Fantastic.
Miku's hair ribbons are nice and voluminous.
Point #5: Headphones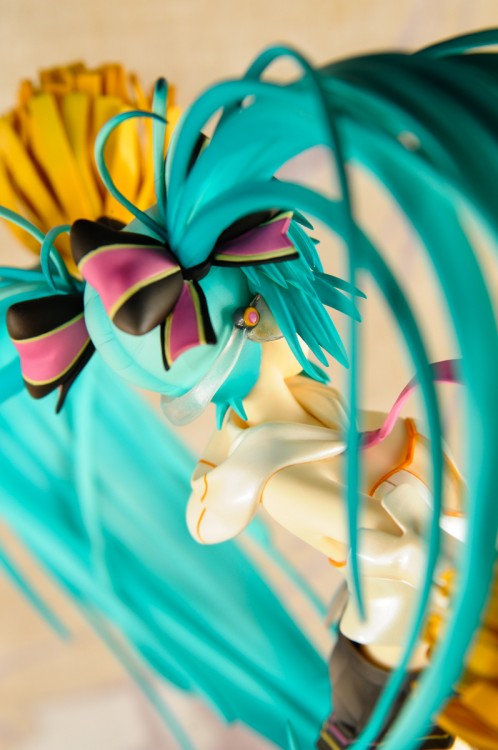 Check out those translucent wraparound headphones! I'd love a pair myself.
The way her hair flies out gives a really edgy aesthetic from this angle.
Conclusion
If i had to criticize one thing, it'd be the way that Miku's tie is flying out – the way it bends in an angular fashion, it looks a bit stiffer than it should.  And this figure is probably easier to knock over than average (pet owners take note.)  Ok, that was two things. But I'm really nitpicking here.
Chalk this one up under the successes list. It's definitely a winner. There's a fine amount of detail, an eye-catching pose, and I really like the unique design of it all. Miku feels as if she would be right at home near some audio equipment or music gear. Helping a good cause and getting a great figure out of it gives me the warm and fuzzies, so kudos to GSC for that. If you didn't pre-order one, there's always online auctions, but beware of fakes and expect to pay a premium on a premium!
Postscript: Photo Notes
[EDIT]: Click here for a follow-up post on flash and lighting!
Camera: Nikon D300 + Tamron 28-75 2.8, hand-held.
Lighting: SB-600 and SB-700 strobes. Picked up the SB-700 last week, it's amazing. B2-sized Madoka poster as a reflector.
Background: I went all out this time, and used the following – Door in my apartment. Unopened figure boxes. Cardboard delivery box from Sagawa. Used packing material. Random speakers that were lying around. The band score for HTT's "Singing!". Ohana Matsumae (Hanasaku Iroha) wallhanging thing.