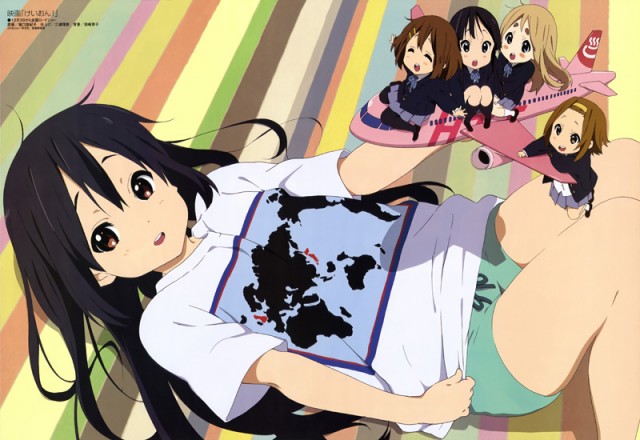 The K-ON! Movie has finally opened in Japan! I'm a big Azunyan fan and adore K-ON!, so, armed with great expectations and a bottle of Mugi endorsed 午後の紅茶 (Afternoon Tea), I set off for the local cinema with a friend! Sadly the limited edition tickets were all gone, but we snagged tickets for the late-night show at 1200 JPY a piece (about $15 USD).
Spoiler-free impressions and review after the break!
Japanese theaters have reserved seating, so we showed up about 10 minutes prior and were greeted by this:
In line with the royal treatment for opening weekend, K-ON! was on the biggest screen in the house! There were also some goods for sale, but most of them were sold out (unsurprisingly…) [K-ON! Movie Goods (TBS Website)] The special Ritsu postcards being offered by the theater were also long gone. What was a bit surprising was that the theater was only about half full. I guess it being a late-night showing on Sunday night was to blame.
The movie ran 116 minutes and was chock full of juicy K-ON goodness. Here's the rundown:
Production: 4.5/5
First off, the production values were very high. It definitely has a solid coat of polish that puts it a cut above the TV series. Kyoto Animation usually does a bang-up job, and they've done really well with the K-ON! Movie. Ample use of dynamic framing, smooth character animation and their trademark background art style all come into play. The art may not be as breathtaking as a Makoto Shinkai work, but it's certainly top-notch. I've been to many of the places (in Japan) that appear in the movie (like the area around the school!) and they were all easily recognizable and rendered beautifully. I'm sure the places they visit in London are just as accurately represented! Actually, thanks to that I've become a bit interested in doing a London 聖地巡礼 (tour of the places that appear in the film!)…
Story: 4/5
As for the story, it was good. Nothing earth-shattering, but it delivers what it promises. They paced it out pretty nicely, and it was generally well written. It definitely incorporates the elements that made the original such a huge success- those who enjoyed the original series won't be disappointed here. There was one thing that I wish had been done *just* a little differently, but that's basically nitpicking on my part. There are more than enough "K-ON! quality" conversations to enjoy, and I spent half the movie bursting at the seams trying to maintain my composure. (Cultural Note: Audiences in Japanese movie theaters basically stay as quiet as possible- but even the guy next to me could barely keep it in!)
Audio: 5/5
Well, it's K-ON! after all, so the music had better be good! Song-wise, old favorites make their appearance with a bit of a twist, and Tom [email protected]'s presence is felt everywhere. The remixed BGMs are also nice. I will NEVER get tired of hearing Toyosaki Aki and Taketatsu Ayana's banter as Yui and Azunyan :D「あずにゃ~ん!」「もう、唯先輩ってば!」ハァハァ…*ahem*. I'd love to talk about the finer points of HTT's gut-wrenchingly hilarious English proficiency, but in the interests of staying spoiler-free, suffice to say that it's something to look forward to- meme-worthy stuff! However, the English voice-actors that were chosen for certain roles performed admirably, and certainly at a level of professionalism far above the *cough* travesty that was the "Sounds like a Guy off the Street" that can be heard in the opening throes of "Evangelion: 01 You Are (Not) Alone".
Overall: 9/10
I had a really good time watching the film. It's not perfect, but K-ON! fans will enjoy it, and it might just have enough mass-market appeal to be interesting as a family movie for people who have never seen the series.  Maybe the worst thing about it was best stated by Taketatsu Ayana herself, on her blog (Thanks to Avvenire for the translation!):
"I feel a little sad and it's been in the corner of my mind for a long while now. That this movie might just be the last thing we ever do with a K-ON anime." Read the rest at Seiyuu Blog Snippets.
Although I think they'll eventually crank out an S3 once the new manga gets a few volumes out, that probably won't be for a good while yet. In short, it's a fun movie, go watch it as soon as you can! (It's not to late to book a plane ticket for the Christmas season hehe…)
Omake:
It's been floating around the net for a little while now, but there's a point system for repeat viewers of the movie. If you collect 3 ticket stubs, you get some sort of random piece of "Memorial Film" (probably a cut of film from the movie). There are 24 spaces to fill on the card, so you'd have to spend over 30,000 yen to get 8 random pieces of film. I'd rather just buy the rest of the [email protected] BDs than 24 movie tickets to the same movie, but there's otaku out there who've already filled their cards, and then some- (via yaraon):