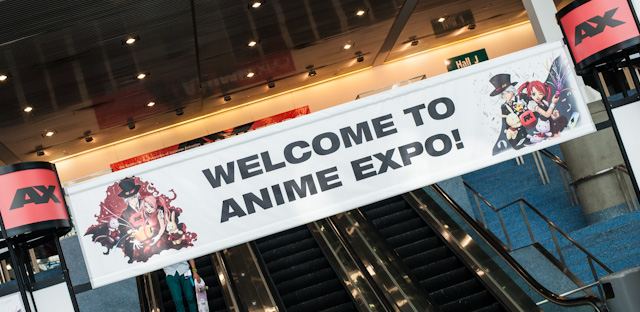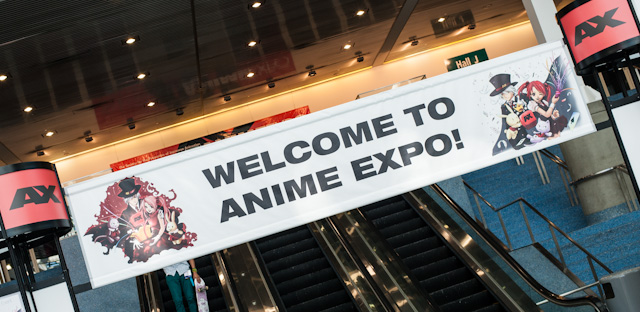 Summary:
"Anime Expo 2012" is a light-hearted series that definitely draws inspiration from the likes of Genshiken, Comic Party, and the classic "Otaku no Video." The plot is centered around slice-of-life segments strung together under the unifying banner of subcultural context. With heart-warming moments aplenty, exceptional concert scenes and even some nailbiting-action sequences, it definitely doesn't disappoint. Pacing was a bit rushed at times, and it sometimes felt as if there were too many new characters being introduced without adequate opportunity for development.
Nonetheless, one can hardly fault the director for being ambitious– as a package, everything fits together nicely. Sound was generally pleasing throughout. Animation was done in a very realistic, almost three-dimensional style, which really contributed to the […]
Plot: 9/10 – Slice-of-life at its finest.
Characters: 9/10 – Something for everyone.
Visual: 10/10 – Incredibly realistic art.
Audio: 9/10 – Great use of music overall.
Tomoe Tamiyasu: 11/10 – "Thank you, thank you very much!"
The Journey Begins
So let's get to it. This story actually starts on Day -1. I stayed up late into the wee hours of the morning due to last-minute packing and general pre-con excitement. Barely managing to get in a quick 30-minute nap before dragging myself out of bed at 4:30am, I headed off to Toronto's Pearson International Airport for an 8:20am flight. It's a good thing I got there almost 3 hours early, because Air Canada's automated kiosks were a mess! Due to some sort of computer problem, it took almost 40 minutes to check in. Sadly, there were more staff helping people with the kiosks than manning the actual service counters.  After clearing that gauntlet, plus US Immigration & Customs pre-clearance and the security checkpoint (no body-cavity searches, thankfully), it was on to the next line!
  If half of life is showing up, the other half is lining up. Knowing what line to stand in, how to stand in it properly, and how to justfully cut ahead, is an invaluable life skill.
I grabbed a coffee and managed to make it to the gate. The next hour was spent struggling to stay awake until boarding. At least Pearson has free wi-fi! Finally getting on the plane and to my seat, I promptly fell asleep and woke up somewhere over the Rockies.
Day/Zero
My flight landed smoothly at LAX around 10:30am PDT. There, I met up with Meta (@metanyani) and Vita (@daponya) at the baggage carousel, and we spent about 30 minutes waiting around for a hotel shuttle. I was seated next to a middle-aged lady who happened to work in downtown LA, and we had a nice chat about Japan, AX, and how she liked to take pictures of "those people in costumes" during her lunch break every year. There was also a Momiji crossplayer sharing the van with us – yep, IN 'MERIKA NAU.
Indeed, cosplay on the streets of Japan is rare outside of Akihabara and some of the more fashionable districts of Tokyo. Most events prohibit wearing cosplay outside of an event-space, so as to avoid "kakeru-ing meiwaku" (causing trouble) for the residents in the area – about the worst thing you can do in Japanese society. The last thing we'd want is for grandma to be "komatta" (troubled) by Man-Faye or worse. But in that sense, the freedom of expression – or lack of reservation, in LA was quite refreshing. The plan was to stay at the JW Marriot with Shini (@c_ling) and Kyosuke (@madohomumagica), but they were getting a late start out of Irvine, about an hour from downtown by car, so I tagged along with Meta and Vita to the Kyoto Grand near Little Tokyo. Everyone was pretty tired, so we did the only logical thing– stay in the hotel and watch Saki: Achiga-hen, in which characters sit in a room and watch other characters play mahjong on TV.
Mahjong isn't about winning. It's about not losing. And using supernatural powers to not lose.
"Anime at an anime con, so meta," said Meta, in what would later prove to be the most meta-filled statement of the weekend. Eventually hunger took hold and at around 4:00pm we mustered the energy to venture out in search of food in Little Tokyo. Along the way, we found an interesting street of great interest:
Little Tokyo was not at all like I had imagined it to be. Certainly there were several Japanese-esque stores, but the whole area lacked the vibrance and liveliness of Big Tokyo™. Apparently the area has been in a state of decline for several years, a remnant of the 1980s bubble economy, and very few Japanese live there now. Lunch-time can get fairly busy, I've been told, but during the mid-afternoon it was a veritable ghost-town. One highlight was a place called "Marukai Market", a mash-up between a 100-yen shop, souvenir store and Japanese supermarket. We picked up several dozen "shikishi" (those white square autograph boards), definitely a great buy at $1.50 for 2 (They were $2.15 for 1 at the dealer's room Kinokuniya, and sold out shortly into Day 2).
After grabbing a quick lunch at a bento-box place on Heritage Street, we swung by a shop called Anime Jungle. They had a decent selection of manga and anime but nothing too special. We then made our way back to the hotel and caught an AX shuttle to the Los Angeles Convention Center (LACC). Badge pickup was very smooth this year; we were in-and-out in about 20 minutes. Then, after an entertaining game of hide-and-seek trying to find Akira's (@Akirascuro) car in LA traffic, I was whisked off back to Little Tokyo for the "Epic Aniblogger Dinner."
Epic Dinner of Epicness
Good food, good company, how could one resist! "Epic Aniblogger Dinner" was the brainchild of ZZeroparticle (@ZZeroparticle) and Akira. We went to an izakaya (Japanese-style dining bar) called Honda-ya. There was a good turnout, with 30+ people from all corners of the Internets attending. In fact, the place seemed to have trouble with such a large group because the orders were a mess, some meals took over 2 hours to arrive, and the stern-faced bald-headed waiter looked like he was about to pop a forehead vein. Just imagine #Jintai episode 01.
But the food was good. Definitely reminiscent of a decent quality izakaya in Tokyo, with sizable portions and a reasonable price to boot. It's unfortunate that I didn't get a chance to chat with everyone there, but it was especially fun shooting the breeze with Marina (@animebnb) and Chris (@kurotsuki)! Oh, and Kobato > Sena > Yozora. Also randomly ran into Kylaran (@KylaranAeldin) again. The last time we had a chance encounter was in front of a konbini in a northern Tokyo suburb. In the dead of night. En-route to Comiket 81. Small world, right? After dinner, Akira drove us to the JW Marriot, and he ended up crashing there for the night (delicious exhaustion.) Shini, Kyosuke and I did some last-minute Day 1 planning before following suit. All in all, a great start to the weekend!
-Day 0: End–
Look forward to Part 2 coming soon!